ACRATH Canberra Advocacy Report November 2013
Advocacy Points
11 ACRATH advocates were in Canberra for advocacy from 17 to 21 November. They stayed at the former Brigidine convent.
Training and preparation was held on Sunday night.
In Parliament, teams of two or three formed for meetings.
ACRATH acknowledged the bipartisan support for policy work on human trafficking. We believe effective legislation has grown out of the genuine collaboration between government and civil society. The process has included frank dialogue as well as formal national round tables at which stakeholders have furthered policy work.
ACRATH began work in 2005. To support our funding request, we pointed out our highlights for 2013:
Strong role in federal Parliamentary Human Rights Sub-Committee Inquiry.
The ACRATH RAP – Radio Awareness Project.
A web-based unit for senior secondary students has been developed by the ACRATH Education Group.
Support for 36 trafficked people.
Success at VOCAT – Victims of Crime Assistance Tribunal – in Victoria.
New groups: an ACRATH group in Port Pirie and a young women's group in Melbourne, as well as emerging interest in Darwin, Toowoomba and on the Gold Coast.
ACRATH's effectiveness in working with other agencies in Australia, in the Asia Pacific region, and globally.
We raised the following points:
ACRATH congratulated Parliament on the legislation, Crimes Legislation Amendments (Slavery, Slavery-like Conditions and People Trafficking) Act 2013. ACRATH asks that resources follow the passing of this legislation to ensure its efficacy. ACRATH advocated in particular for a federal compensation scheme for victims of human trafficking. We also shone a light on the rights of overseas workers in Australia.
ACRATH asked the Australian Government to ensure our Overseas Development Assistance (ODA) reaches 0.5% of our Gross National Income (GNI) by 2015, and 0.7% by 2020.
ACRATH asked the Australian government to ensure that the supply chain of goods brought into Aus-tralia is slave-free.
ACRATH met with:
11 members of the Senate
35 Members of the House of Representatives
2 Ministers: Kevin Andrews (Lib, Vic) and Scott Morrison (Lib, NSW)
Advisers to Josh Frydenburg (Lib, Vic), Parliamentary Sec to Prime Minister; Julie Bishop (Lib, WA), Minister for Foreign Affairs; Minister Keenan (Lib, WA) Minster for Justice; Mark Dreyfus (ALP Vic), Shadow Attorney General; Christine Milne (AG, Tas), Leader of the Australian Greens
Representatives from Care Australia, The Attorney General's Department, Australian Catholic Migrant & Refugee Office, Australian Federal Police, Australian Institute of Criminology, Department of Social Services, Department of Foreign Affairs and Trade and the USA Embassy
Christine Carolan, Noelene Simmons sm with Social Services Minister Kevin Andrews (Lib, Vic)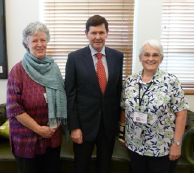 Outcomes from the Advocacy week
ACRATH, and a number of colleague NGOs, have long been concerned about visas and Social Security entitlements for people trafficked into Australia. In this advocacy week ACRATH met separately with Social Services Department officials, the Social Services Shadow Minister and the Social Services Minister. This run of meetings was followed up at the National Roundtable on Human Trafficking in Sydney which happened to be planned for the Friday of our advocacy week; at the Roundtable we were able to take our advocacy point a step further; a teleconference of key people is now being planned.
In Canberra we took the unusual step of advocating for funding for our own organisation. 23 MPs agreed to contact the Attorney General and the Minister for Justice in support of our funding request. Some of our team drafted a letter of support and got it back to those MPs before we left Canberra.
In Canberra the team discussed the status of the recommendations from the Report of the Parliamentary Human Rights Sub-committee; ACRATH is now developing a plan to build on those very worthy recommendations.
By the end of the week, the team have compiled a 30 page follow-up document which records every meeting we had, any follow-ups we promised to undertake, and any links we can build on into the future. In planning this year's advocacy we used three follow-up documents we had compiled in the previous few years; these provided invaluable background resources for the team. Among the follow-ups are an invitation to attend a new MPs maiden speech in parliament and to work with an MP on a forum in regional NSW.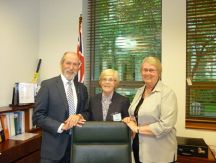 (L-R) Rowan Ramsay (Lib, SA), Anne Tormey rsm and Maree Marsh csb;