Bicentenary of the death of Daniel Delany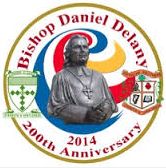 The Brigidine Sisters and Patrician Brothers are preparing to celebrate the Bicentenary of the death of their Founder, Bishop Daniel Delany on July 9.
Bishop Delany was the Bishop of the Dioceses of Kildare and Leighlin in Ireland from 1787 – 1814.
RTE Television is preparing a documentary on Bishop Delany in association with his bicentenary. In the youtube clip below take a look at the Irish sites connected with Bishop Delany as the television crew visit Tullow, Carlow and Mountrath gathering footage and interviews.