On 16 December 2019, we remember it is 121 years since the first Brigidine Sisters arrived in Masterton, New Zealand. Their arrival came at the end of their long journey by ship from Ireland followed by the final stage of the journey over the Rimutaka Range on the North Island of New Zealand.
On this day we honour the unfolding of the Brigidine story in New Zealand. May we know that like the unfurling of the fern, the deep mystery of our stories continually happens in God's time and loving care.
We unite with our Brigidine Sisters in New Zealand, as they celebrate Foundation Day and wish them "Happy Foundation Day"!
May the blessings of our God continue to enrich the lives and service of our Sisters in New Zealand and all those who have supported them across the years and continue to offer loving support!  We remember too the Brigidine women who have died in New Zealand during these 121 years. We give thanks for their rich legacy that lives on in the lives of countless individuals and communities.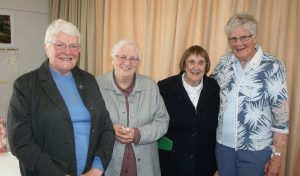 Some of our Brigidine Sisters in New Zealand