Kildare College in Holden Hill has been named as one of the two winners of the 2020 South Australian Architecture Awards for its recent building project. It was  recognised by the Australian Institute of Architects, who award projects deemed to have a considerable impact on the communities they serve and demonstrate generosity toward the broader public.
Kildare College received an Award for Educational Architecture for their new Brigidine Centre designed by WalterBrooke & Associates.
This Brigidine Centre includes a full-size netball court that can also be used for whole college celebrations, a dance studio and rehearsal space, and music theory and practice rooms.
Principal, Tina Neate says: " Students were heavily involved in the decision-making process on this project. It was really important to have a central courtyard area where students could play and be engaged in outdoor learning."
The contemporary and innovative project incorporates some new building materials that had not been used previously in South Australia.
The Brigidine Centre enables the college to continue its emphasis as a Performing Arts College as the new space helps students feel welcomed and open to learning.
Brigidine Sisters founded Kildare College, Holden Hill in 1966 and offer congratulations to involved in the College now as one of Kildare Ministries schools.
For more information go to: https://www.kildare.catholic.edu.au/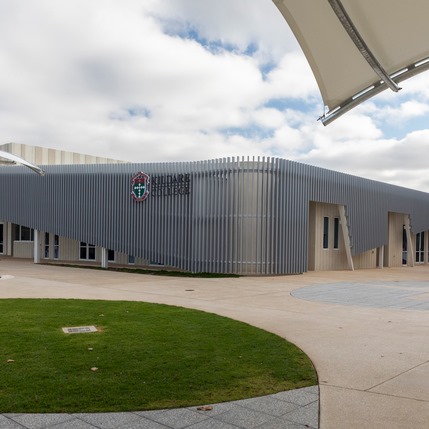 (Photo by Sam Newman)