Brigidine Sisters are committed to advocacy and action on behalf of migrant families and people seeking refuge. Wherever we are and in whatever ways available to us, we seek to 'welcome the stranger.'
Some years ago while working with CAFOD in UK and campaigning for refugees and asylum seekers, Patricia Mulhall csb wrote a poem: "Call No-one Stranger" for one of their liturgies.
Patricia's poem caught the eye of a 'Together in Hope' choir in the USA and has been put  to music!  Recently, The Stranger'  was premiered at the  Trondheim International Olavsfest in Norway.  Patricia was an invited guest!
Following the Festival, Patricia shared her reflections in Independent Catholic News.  For access to Patricia's article click here:  Norway – A summer festival focusing on Hope
Patricia's poem can also be accessed here: Call No One Stranger – poem
Out thanks to Patricia for this inspiration.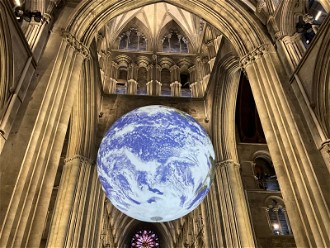 Gaia in Nidaros Cathedral, Norway.
Photo by Patricia Mulhall csb.
August 2022.