The Gospel reading for the Third Sunday in Lent, Year C is taken from the Gospel of Luke 13:1-9. Here Jesus proclaims that unless we change radically we will perish. He then goes on to tell the parable of the barren fig tree, reminding his listeners and us that God is kind and merciful and always ready to give us a second chance.
In the face of so much destruction and oppression in our world today there's such a deep need for change that only mercy and forgiveness can bring about.
In light of the sexual abuse, the alienation and pain suffered by many in our Church today, there is certainly a need for radical change and for a clearer expression of God's kindness and forgiveness.
In our own families, communities and workplaces, there are numerous people yearning to be given a second chance rather than a harsh judgement or words of condemnation.
The following reflection by Donal Neary SJ, editor of the Sacred Heart Messenger magazine was published on the Logos Sunday Missalettes. (Logos Misalette, Greystones, Co. Wicklow).
It is offered here for your reflection and prayer in the coming week:
https://sacredheartmessenger.3rd-sunday-lent-year-c/
In this third week of Lent where do you need to make a change so as to be ready to experience and share with others the kindness of a forgiving God?
In what situations of your life do you need to give someone else a second chance?
Pray the following prayer this week:
"Our God is compassion and love, slow to anger and rich in mercy. For as the heavens are high above the earth so strong is God's love for all".  (Based on Psalm 102:11)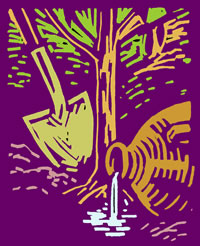 "…give me time to dig around it and manure it: it may bear fruit next year." (Luke 13:9)