World Refugee Day, 20th June,  is an occasion to build empathy and understanding for people forced to flee their homeland. (Source: UNHCR)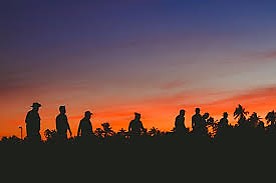 Brigidine Sisters recognise the search for safety, the grief and loss, the traumatic journey and the challenges of re-settlement experienced by  millions of people.
Across our Congregation, Brigidine Sisters are engaged in support with and for Refugees and Asylum Seekers – through education, awareness raising, advocacy, companionship and action.  We honour and celebrate the strength, courage, resilience and contribution of people with whom we share life and hope.

" Refugees represent the very best of the human spirit. They need and deserve support and solidarity — not closed borders and pushbacks. 
       "UN Secretary-General António Guterres
Some reflections and information:
What is the refugee crisis?  CAFOD UK
Facts matter:  UN : World Refugee Day 2023
Fr Andrew Hamilton SJ (Aus):      Refugee Week
Brigidine Asylum Seekers Project : BASP Newsletter May 23
 "…we are challenged to listen and respond to the cry of all life pleading, 'Am I not your neighbour?'
Invitation and Call, Congregational Forum 2022