In solidarity with our New Zealand Sisters, Brigidines honour Matariki Day which falls on 14th July, 2023.
Matariki is the star cluster most commonly known across the world as Pleiades. It is one of the earliest recorded groups of stars in human history, with a record that dates back some 17,000 years.
Matariki – is particularly treasured in Aotearoa New Zealand. For Māori, the rising of Matariki during June/July signals te Mātahi o te Tau, the Māori New Year.
The appearance of Matariki in the morning sky is a sign for people to gather, to honour the dead, celebrate the present, and plan for the future.
In 2022, Matariki Day became a National Holiday for all New Zealanders, making it one of the first Indigenous celebrations to be recognised as a public holiday in a settler colonial state.
Our Anne Phibbs csb  shares  Matariki Day information here:  Matariki 2023
The 9 stars of Matariki –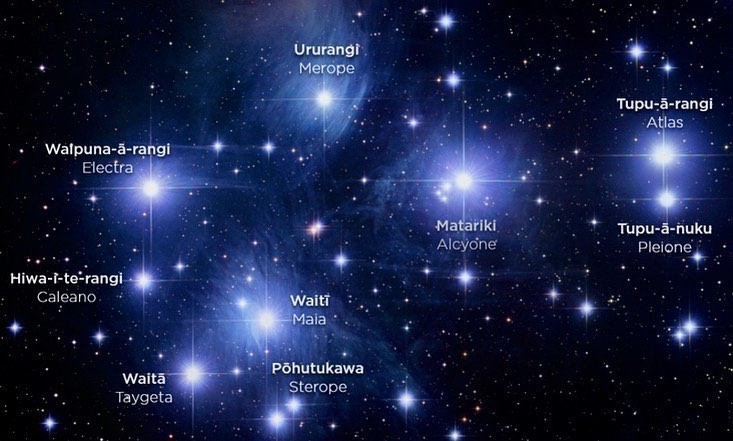 "They are a living cry of hope. They know what it is to listen to (the) Earth, to see (the) Earth, to touch (the) Earth. They remind us that we human beings have a shared responsibility to care for our common home." 
– Pope Francis, Indigenous Peoples Forum, Rome February 2019.