St. Brigid of Kildare Gathering Festival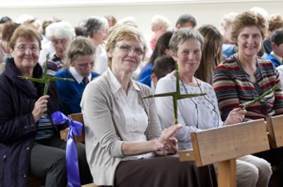 St. Brigid of Kildare Gathering Festival in Honour of St. Brigid was held between 15th to 21st of September 2013, Kildare Town.
Kildare Town welcomed visitors from the UK, the US, Canada, Australia, Europe and from all around Ireland. There was be a packed programme of music and dance events in addition to walks, pilgrimages, craft demonstrations and craft workshops, each linking to the St. Brigid legacy. On the final day, pilgrims took part in a Guinness Book of Records attempt to have the most people in one place weaving St Brigid's Crosses at the same time. A truly memorable experience celebrating the life of St. Brigid.
For further information please visit: www.solasbhride.ie