"Refugees are not pawns on the chessboard of humanity. They are children, women and men who leave or are forced to leave their homes for various reasons, who share a legitimate desire for knowing and having, but above all for being more." (Pope Francis, World Day of Migrants and Refugees, 2014)
As the unprecedented tragedy of millions of people being displaced by natural disasters, conflict, war, climate change or persecution continues to unfold, we sense a call to deep prayer, strong advocacy and concerted action for justice in response to this global concern.
Brigidines are engaged in a variety of networks and support groups working at a number of levels – visiting and providing personal support and material aid to refugees and asylum seekers in detention centres and in the community. We are committed to educating ourselves and raising the awareness of others about these issues as well as advocating and lobbying for change to unjust policies of governments.
Brigidine Asylum Seekers Project (BASP)
This is a Melbourne-based initiative of the Brigidine Sisters which aims to:
provide hospitality and practical support for asylum seekers;
actively network with like-minded individuals and groups who are working for justice for asylum seekers;
promote advocacy for the rights of asylum seekers;
engage in education about issues concerning asylum seekers.
Concerned and compassionate women and men across cultures and generations contribute to the work of this Project.
More information: www.basp.org.au
Brigidines also work in partnership with other NGOs to assist new migrants settle in their host countries.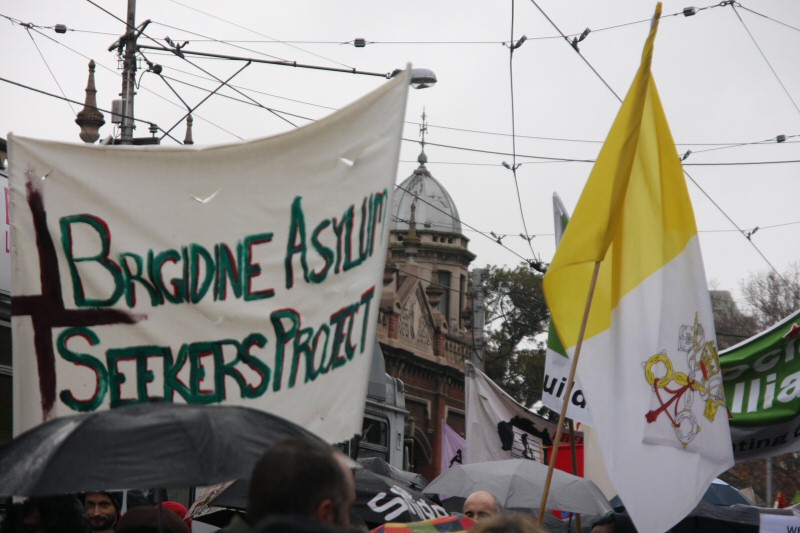 Another example of this work is Tallaght Intercultural Action.
More information: www.tallaghtinterculturalaction@eircom
"Everything is connected. Concern for the environment thus needs to be joined to a sincere love for our fellow human beings and an unwavering commitment to resolving the problems of society." (Laudato Si', 92)